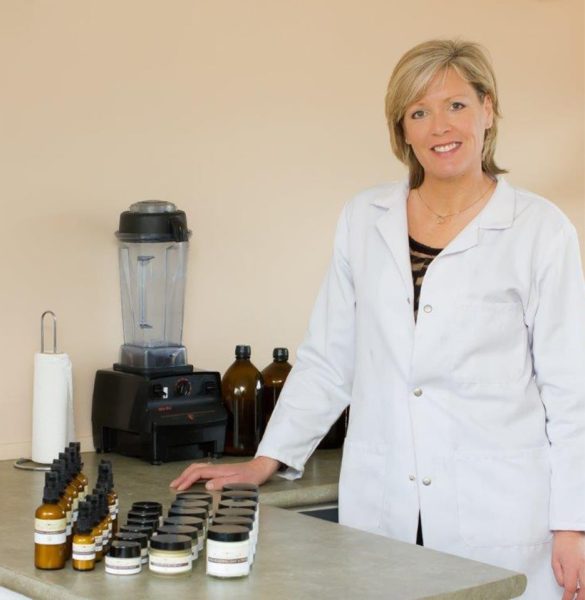 Viola Organics have a strong reputation following more than three decades of manufacturing their own range of truly organic and natural skin care products in New Zealand.
Operating from our premises in Whangarei, NZ we hand make everything in our range on a very short manufacturing schedule which means you receive the freshest product possible as we make each product every few weeks.
Using only Organic and natural quality ingredients teamed with non-toxic clean down processes we can guarantee that the end product has not come into contact with any synthetic chemicals throughout the manufacturing process.
Here at Viola, we ensure the integrity of our products in a simple way – we source, create and manufacturer them ourselves, by hand, in small batches. We do this because we care about our range, how they are created and most importantly, ensuring a quality fresh product for our customers.
My mother started this business in 1986 following a cancer diagnosis and re-occurrence, and 36 years later, both the business and mum are going strong. We still work as a family on what is more than a business for us, but also a way of life and something we are very passionate about.
A chemical-free life has shown great benefits for my family and we want to share that with our valued customers.
We achieved Organic Certification in July 2003 and remained certified until 2021 when we voluntarily withdrew from the program to focus on donating more of our profits to worthy organisations such as NZAVS & RSPCA. We were very proud to be one of only a select number of companies worldwide producing pure organic certified skin care. Nothing has or will change due to this withdrawal.  Our valued customers can retain the confidence and trust that we only use the purest organic ingredients available; that no dangerous chemicals are used to clean our processing equipment; and the majority of our packaging is recyclable, with limited use of plastic as we prefer the safer option of glass.
We live, breathe and love our products and have faith in them to deliver what you need in keeping with the ethics of our company. We are proudly New Zealand made and we love what we do.
Enjoy our products and if you have any queries, please feel free to contact me.
Janine Matchitt, Managing Director, Viola Organics Ltd
Beautiful Skin Naturally
Are you attempting to turn back the clock or clean up your lifestyle?
When considering skincare products you simply can't look past what nature has to offer. All natural oils like Jojoba, Almond, Rosehip and Avocado used in many of our formulations deliver more Vitamins, Anti-oxidants, nourishment and moisture than any ingredient created in a laboratory. There is nothing in nature or a laboratory that will completely eradicate wrinkles – believe me, people have been trying for centuries.
Recycling Pledge
Our products are inspired by the best of what nature has to offer, and we further strengthen our ethos to nurture the planet by choosing recyclable packaging like glass as our first option. Plastic is only used when it is not safe or practical to have a product packaged in glass. We do use plastic in some cases, as an addition to that same product being available in glass.
We've never introduced secondary cartons, these often go straight to landfill and the planet certainly does not need more rubbish.
Where bags are used for products like Bar Soap and Deodorant Powder we chose NatureFlex™ an eco-friendly GMO-free cellulose film that offers an environmentally-friendly, certified compostable (within 8-10 weeks) plastic bag alternative.
We pledge never to buy bubble wrap, filling materials or boxes. Instead we work tirelessly to have a continuing supply of recycled material to hand. This could never be achieved without the wonderful support of local businesses. Some materials we use are contentious but please be assured …..
EVERYTHING we use to ship your order is RECYCLED.
COVID-19 – Pandemic Response Pledge –  we will always be a 100% NON Discriminatory business:
We are about your freedom and pledge to treat all customers with dignity and respect regardless of your vaccine 'status'. You will always be welcome to shop with our business. Viola Organics can operate through ALL Levels as we are considered an "Essential business selling key consumer goods for maintaining the well-being of people".