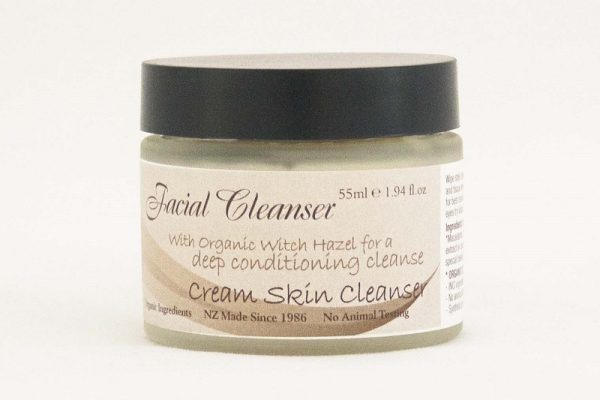 Cream Skin Cleanser
$23.50 – $39.50
A luxurious Cream Skin Cleanser which is both gentle and effective. Containing Witch Hazel and Grape Vinegar to deeply cleanse and remove impurities. A clean skin is essential for a healthy complexion. Massage in then tissue away, follow treatment with a toner or warm flannel. The perfect cleanser for removing stubborn make-up. See Hydrating Cleansing Lotion if you prefer a wash off cleanser.
This item is packaged in frosted glass and available in 25ml / 55ml / 100ml
100% Organic Certified and natural ingredients.
Works wonderfully with Eye Make-Up remover! Compliments facial Treatments like Renew Exfoliator, Honey Facial Mask, Firming Serum?
NOTE PLEASE: We are now required by the Cosmetic Products Group Standard & EPA (Environmental Protection Agency) to apply a WARNING label to this product which states "Not to be used for children under 3 years of age".
This is due to the use of Sodium Borate (we use is at less than 1%) which is the maximum permitted for any product applied to the skin. NZ labeling laws are aligning themselves with EU labeling laws and have introduced this warning, the EU are working toward banning Sodium Borate altogether so we are being forced to re-formulate all our creams that contain it.
Although we do not support that Sodium Borate is in any way dangerous (boron is a mineral of which our soil is depleted) the Sodium Borate we use is supplementary grade and used for human consumption however, we have no choice but to comply with these new regulations and will be applying a label to the bottom of jars made with this ingredient.
Ingredients in Cream Skin Cleanser: Distilled Water, *Olive Oil, *Sesame Oil, *Almond Oil, *Macadamia Nut Oil, *Beeswax, *Sunflower Oil, *Beeswax, *Calendula Extract (in *Organic Coconut Oil),  *Witch Hazel, *White Grape Vinegar, Sodium of Borate (natural emulsifier, pharmaceutical grade less than 1%) Essential Oils Lavender, Lemon, Eucalyptus, Clove, Thyme.
INCI Ingredients: Water, *(Olive) Olea europaea Oil, *(Sesame) Sesamum indicum Oil, *(Almond) Prunus dulcis Oil, and  *(Macadamia Nut Oil) Macadamia integrifolia Oil, *(Beeswax) Cera flava, *(Calendula Extract) Calendula officinalis (Coconut, cocos nucifera oil), *(Sunflower) Helianthus annus Oil, *(Witch Hazel) Hamamelis virginiana , *White Grape Vinegar, Borax (sodium borate less than 1%) Pure Essential Oil *(Lavender) Lavendula gross, (Lemon) Citrus limon, (Clove) Syzygium aromanticum, (Eucalyptus) Eucalyptus globulus, (Thyme) Thymus vulgaris.
*Denotes an Organic Certified Ingredient. Synthetic preservative free skincare is for better health and well being.
Additional information
| | |
| --- | --- |
| Weight | 0.290 kg |
| Size | 100ml, 25ml, 55ml |