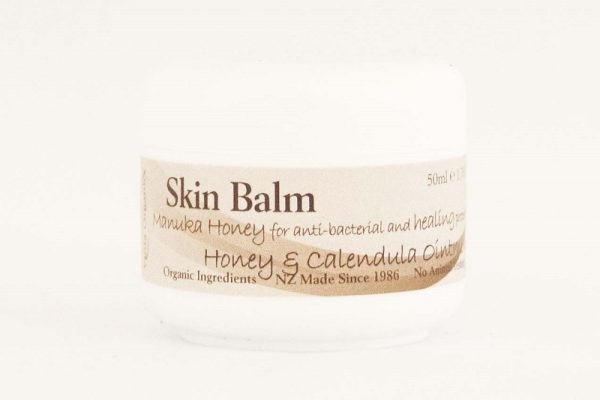 Honey & Calendula Ointment 50ml
$19.50
89 in stock
Containing 27% Organic Manuka Honey this ointment is ideal for broken skin infections and sores. Manuka Honey combines with Calendula Oil offers anti-bacterial, healing and soothing properties. Made fresh with 100% Organic certified ingredients. Every first aid cupboard should contain one of our ointments, we also make 2 other skin balms; Calendula Ointment (a great all-rounder healing and soothing), Swedish Bitters Ointment (for itchy, stings and scaly skin conditions)
100% Organic Certified ingredients. Packaged for safety reasons in a solid white plastic pot which also protects the oils from deterioration.
Ingredients: *Calendula Oil (36%), *Manuka Honey (27%), *Olive Oil, *Jojoba Oil, *Sunflower Oil, *Beeswax, Pure Essential Oil Lavender, Cypress.
INCI Ingredients: * (Calendula Oil) calendula officinalis infused in Organic Sunflower oil and cold pressed, *Manuka Honey, * (Olive) Olea europaea Oil, *(Sunflower) Helianthus annus Oil, *(Beeswax) Cera Flava, *(Jojoba) Simmondsia chinensis Oil Pure Essential Oil *(Lavender) Lavendula grosso, (Cypress) Cupresses sempervirens.
*Denotes an Organic Certified Ingredient.