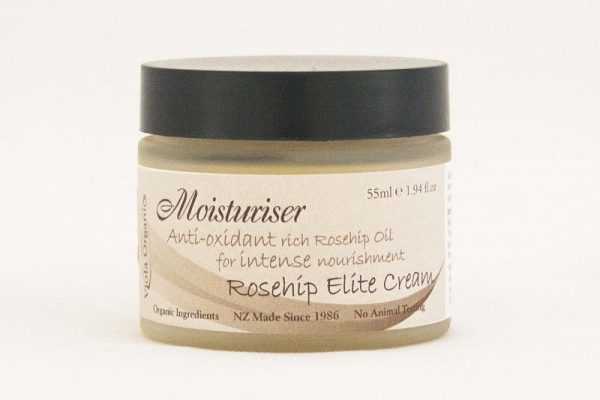 Rosehip Elite Cream
$23.50 – $59.50
This incredible and unique moisturiser is highly concentrated with the most exquisite oils like Almond, Jojoba, Rosehip and nut butters – Cacao and Shea Butter. Full of vitamins and minerals to leave the skin feeling nourished and rejuvenated. Rosehip Elite Cream is a unique (solid in the winter – soft in the summer) cream suitable for normal to dry skin types and one of our top sellers. Suit all skin types with the exception of Acne-prone. Allow a small amount to melt on each cheek before attempting to massage in (see below for further tips).
Packaged in frosted glass and available in 25ml trial/travel size – 55ml – 100ml.
100% Organic Certified ingredients.
Our formulations do not include any synthetic preservatives, emulsifiers or stabilisers and therefore temperature can have an effect on them. TOP TIP: When the weather is cold, allow this cream to warm on the skin before massaging in, simply scrape a small amount off using the back of your thumb nail, pop a smudge on each cheek, then chin and forehead, wait 5 seconds or so. It will then have melted enough for you to massage in with ease. Can be refrigerated in the heat of the summer.
Ingredients in Rosehip Elite Cream: Oil blend *Almond Oil,  *Rosehip Oil, *Jojoba Oil,  *Sunflower Oil, *Avocado Oil, *Coconut Oil make up the largest portion of this formulation then * Tapioca Starch, *Palm Oil (from a sustainable fair trade source – see below for an in-depth explanation about this ingredient), *Shea Butter, *Cocoa Butter, Pure Essential Oil: Rose Geranium, Rosemary, Oreganum.
INCI Ingredients:*(Tapioca Powder) Manihot esculenta, *(Palm Stearin) Eaeis guineensis, *(Shea Butter) Butyrospermum parkii, *Cocoa Butter (Cacao) Theobroma cacao, *(Almond) Prunus dulcis Oil, *(Rosehip) Rosa Canina Seed Oil, *(Jojoba) Simmondsia chinensis Oil, *(Sunflower) Helianthus annus Oil, *(Avocado) Persea gratissima Oil, *(Coconut) Cocos necifera oil, Pure essential oils (Rose Geranium) Pelargonium x asperum, (Rosemary) Rosmarinus officinalis, (Oreganum) Origanum vulgare
*Denotes an Organic Certified Ingredient. Organic facial products contribute to promoting a sense of well-being.
We use Organic Palm Oil in this formulation and we are aware of the increasing discontent with the producers of this oil. We would like to assure you that we purchase our supply from a sustainable resource. The supply is Certified as meeting the requirements of RSPO Principles & Criteria (2007) for sustainable Palm Oil production, SGS Ref#MY10/00640. RSPO Certification Qualipalm – www.sgs.com.
The following is the reason we use this oil in our skincare range
Palm oil contains the hard to find toctrienols, which are members of the vitamin E family. The common form of vitamin E, tocopherol, has long been used to treat many skin ailments and is found in many anti-aging products. Vitamin E is a strong antioxidant that helps the skin to fight free radicals that damage the skin and cause fine lines and wrinkles. Dr. Betty Kamen, PhD confirms that as a stronger antioxidant than tocopherols, toctrienols have been proven to be more effective in preventing aging and damage from free radicals. Used topically, as with tocopherol, toctrienols are able to penetrate deep into the skin's layers to enable healing and protection from the base up.
Additional information
| | |
| --- | --- |
| Weight | 0.290 kg |
| Size | 100ml, 25ml, 55ml |