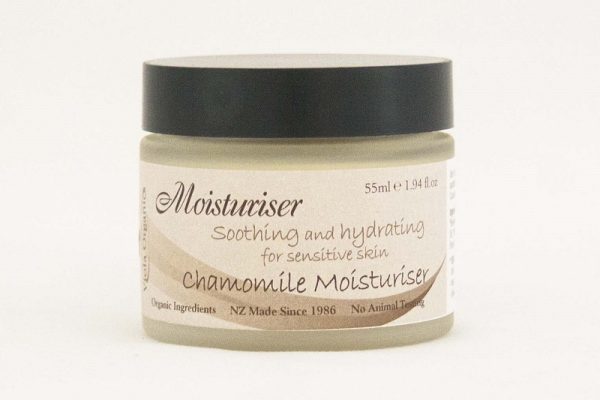 Chamomile Moisturiser
$23.50 – $59.50
Contains soothing Chamomile Extract which is made in-house by steeping Organically grown Chamomile flowers in Organic Coconut Oil then pressing. This product also containing Jojoba Oil which is well recognised for its anti-ageing properties. Excellent for normal to dry or sensitive skin types.
100% Organic Certified and natural ingredients. This item is packaged in frosted glass and also available in 2 sizes (25ml trial/travel size – 55ml – 100ml)
If you feel you may not use this 100ml size up within 6 months from purchase then we recommend buying the 55ml – keep the product fresh as possible as it feels nicer on the skin.
NOTE PLEASE: We are now required by the Cosmetic Products Group Standard & EPA (Environmental Protection Agency) to apply a WARNING label to this product which states "Not to be used for children under 3 years of age".

This is due to the use of Sodium Borate (we use is at less than 1%) which is the maximum permitted for any product applied to the skin. NZ labeling laws are aligning themselves with EU labeling laws and have introduced this warning, the EU are working toward banning Sodium Borate altogether so we may be forced to re-formulate all our creams that contain it.
Although we do not support that Sodium Borate is in any way dangerous (boron is a mineral of which our soil is deplete) the Sodium Borate we use is supplementary grade and used for human consumption however, we have no choice but to comply with these new regulations and will be applying a label to the bottom of jars made with this ingredient if required.
Ingredients in Chamomile Moisturiser: Distilled Water, *Almond Oil, *Olive Oil, *Safflower Oil, *Jojoba Oil, *Beeswax,  *Chamomile Extract, *Shea Butter, *Apricot Oil, Sodium of Borate (natural emulsifier, pharmaceutical grade less than 1%) Pure Essential Oil; Rose Geranium, Petitgrain, Naiouli, Clove, Eucalyptus Thyme.
INCI Ingredients: Distilled Water, *(Almond) Prunus dulcis Oil, *(Olive) Olea europaea Oil, *(Safflower Oil) Carthamus tinctorius Oil, *(Jojoba) Simmondsia chinensis Oil, *(Beeswax) Cera flava, *(Chamomile Extract) Matricaria recutita in *(Coconut, cocos nucifera oil), *(Shea Butter) Butyrospermum parkii, *(Apricot) Prunus armeniaca Oil* , Sodium of Borate less than 1% (natural emulsifier, pharmaceutical grade), Pure Essential oil (Rose Geranium) Pelargonium x asperum, (Petitgrain) Citrus aurantium, (Naiouli) Melaleuca viridiflora, (Clove) Syzygium aromaticum, (Eucalyptus) Eucalyptus globulus, (Thyme) Thymus vulgaris..
*Denotes an Organic Certified Ingredient.
Organic Beauty products make sense for better health and well-being.
Additional information
| | |
| --- | --- |
| Weight | 0.290 kg |
| Size | 100ml, 25ml, 55ml |