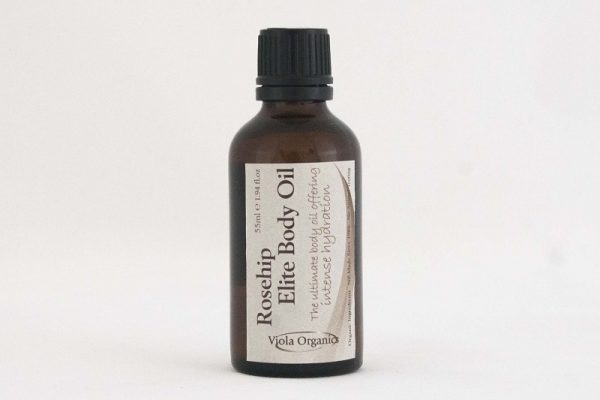 Rosehip Elite Body Oil 55ml
$25.50
89 in stock
The ultimate body oil to hydrate, nourish and soften the skin. This formulation provides lashings of vitamins, minerals and EFAs (essentila fatty acids). Light and easily absorbed. A real treat for the skin.
Packaged in dark glass to protect the oils from deterioration with a dripulator plug to allow for dispensing by the drop. You can remove the plug for a faster pour if required.
100% Organic Certified ingredients.
Ingredients:
*Almond, *Jojoba, *Rosehip Seed, *Avocado and *Macadamia Nut Oils, Pure Essential Oil Rose Geranium, Rosemary, Oreganum
INCI Ingredients: *(Almond) Prunus dulcis Oil, *(Jojoba) Simmondsia chinensis Oil,  *(Rosehip) Rosa canina, *(Avocado) Persea gratissima, *(Macadamia Nut Oil) Macadamia integrifolia, Pure essential oils (Rose Geranium) Pelargonium x asperum, (Rosemary) Rosmarinus officinalis, (Oreganum) Origanum vulgare
*Denotes an Organic Certified Ingredient.