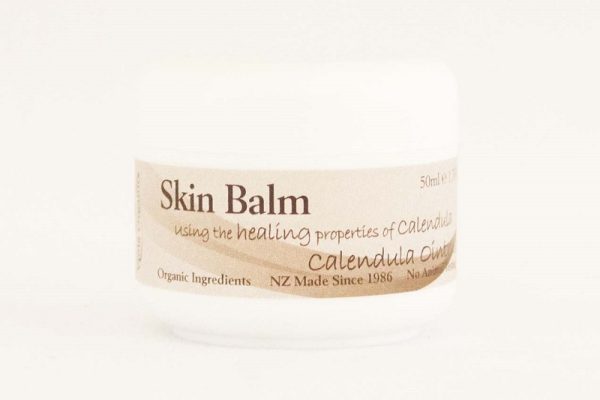 Calendula Ointment 50g
$19.50
76 in stock
A great all-rounder, the ideal ointment to have in your first aid kit.
Packed in plastic for safety reasons. 100% Organic Certified ingredients.
Apply directly to assist with all manner of skin complaints. The healing power of pure organic Calendula Oil is what makes this ideal for treating sores, itchy or flaky skin conditions. Also soothing on sore, cracked nipples caused by breastfeeding (we also make an Organic Certified Nipple Balm). Calendula Ointment may also be used as a personal lubricant.
Ingredients: *Calendula Oil (45%), *Jojoba Oil, *Olive Oil, *Sunflower Oil, *Beeswax, Pure Essential Oil Cypress, Lavender.

INCI Ingredients: *(Calendula Oil) Calendula officinalis, *Pure Manuka Honey, * (Olive Oil) Olea europaea, *(Sunflower Oil ) Helianthus annus, *(Beeswax) Cera Flava, *(Jojoba Oil) Simmondsia chinensis. Essential Oil (Cypress) Cupressus sempervirens, *(Lavender), Lavandula grosso.
*Denotes an Organic Certified Ingredient. No chemicals are used to preserve our products. Not tested on animals.