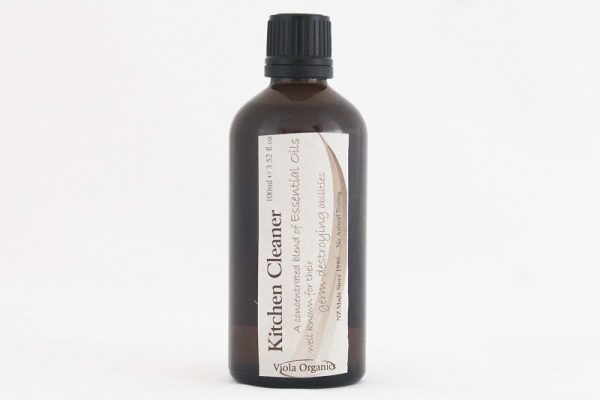 Kitchen Cleaner 100ml
$9.90
50 in stock
For use in any room of the house on any surface (with the exception of bare timber). Simply shake a few drops onto a clean damp cloth to wipe benchtops or surfaces. No need to rinse surface afterward. With so many 'superbugs' and resistant bacteria at large it's nice to know many pure essential oils have antiseptic, anti-bacterial, anti-fungal properties. This blend contains the best of them. (previously called Kitchen Disinfectant)

Packaged in brown glass to protect the oil from deterioration with a dripulator plug allowing for dispensing by the drop. However, if you wish to have a faster pour then simply remove the plug.
Terrific for wiping down baby toys, highchairs, stroller handles etc. It simple evaporates and is non-toxic and safe for all ages. Smells so nice that a couple of drops in your kitchen bin really works a treat. Ants hate the stuff – an added bonus! If you want to create your own 'spray'n'wipe' style cleaner, add 1/2 – 1 tsp to a clean 250ml+ spray bottle, top with warm water and shake well before each use.

Ingredients: Natural Alcohol (un-denatured ethanol) Pure Essential Oil blend Neem, Eucalyptus, Clove, Lemon and more.
INCI Ingredients: ( Natural Alcohol) Ethanol un-denatured, (Rose Geranium) Pelargonium x asperum, (Lemon) Citrus limon, (Lavender) lavendula grosso, (Eucalyptus) Eucalyptus globulus, (Neem) Azadirachta indica, (Palma Rosa) Cymbopogon Martini , (Thyme) Thymus vulgaris, (Clove)  Eugenia caryophyllus