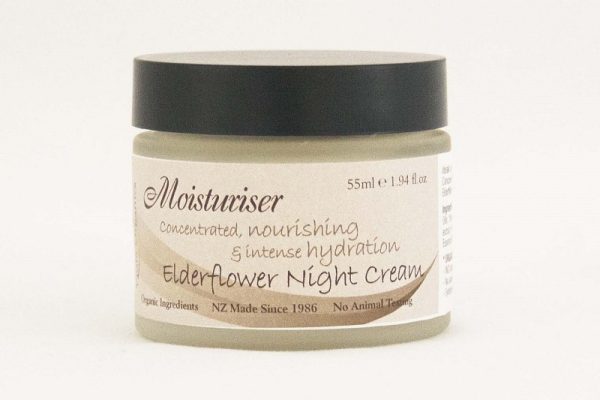 Elderflower Night Cream
$23.50 – $59.50
Elderflower Night Cream is the richest cream in our range, so concentrated that you only need apply sparingly. Formulated by incorporating as much Shea Butter, Jojoba Oil and Elderflower Extract (made in-house by steeping Organic dried Elderflowers in Organic Coconut Oil and pressing after 24hrs) as possible to provide maximum hydration and nourishment while you sleep.
100% Organic Certified and natural ingredients. This item is packaged in frosted glass and available in 25ml trial/travel size – 55ml – 100ml.
If you feel you may not use this 100ml size up within 6 months from purchase then we recommend buying the 55ml – keep the product fresh as possible as it feels nicer on the skin.
NOTE PLEASE: We are now required by the Cosmetic Products Group Standard & EPA (Environmental Protection Agency) to apply a WARNING label to this product which states "Not to be used for children under 3 years of age".
This is due to the use of Sodium Borate (we use is at less than 1%) which is the maximum permitted for any product applied to the skin. NZ labeling laws are aligning themselves with EU labeling laws and have introduced this warning, the EU are working toward banning Sodium Borate altogether so we may be forced to re-formulate all our creams that contain it.
Although we do not support that Sodium Borate is in any way dangerous (boron is a mineral of which our soil is depleted) the Sodium Borate we use is supplementary grade and used for human consumption however, we have no choice but to comply with these new regulations and if required will be applying a label to the bottom of jars made with this ingredient.
Ingredients in Elderflower Night Cream: Distilled Water, *Sunflower Oil, *Olive Oil, *Jojoba Oil, *Almond Oil, *Beeswax, *Shea Butter, *Elderflower Extract (organic Elderflowers steeped in *Coconut oil), *Apricot Oil, Sodium of Borate (natural emulsifier, pharmaceutical grade less than 1%),  Pure Essential Oil Rose Geranium, Rosemary, Lavender, Clove, Eucalyptus, Thyme.
INCI Ingredients: Distilled Water, *(Sunflower) Helianthus annus Oil, *(Olive) Olea europaea Oil, *(Jojoba) Simmondsia chinensis Oil, *(Almond) Prunus dulcis Oil, *(Beeswax) Cera Flava, *(Shea Butter) Butyrospermum Parkii, *(Elderflower Extract) Sambucus nigra in *(Coconut, cocos nucifera oil), *(Apricot) Prunus armeniaca Oil, Sodium of Borate (natural emulsifier, pharmaceutical grade less than 1%) Pure Essential Oil (Rose Geranium) Pelargonium x asperum, (Rosemary) Rosmarinus officinalis, *(Lavender) Lavendula grosso,  (Clove) Syzygium aromanticum, (Eucalyptus) Eucalyptus globulus, (Thyme) Thymus vulgaris.
*Denotes an Organic Certified Ingredient. Organic Moisturisers; providing a holistic approach towards skin repair and care.
Additional information
| | |
| --- | --- |
| Weight | 0.290 kg |
| Size | 100ml, 25ml, 55ml |