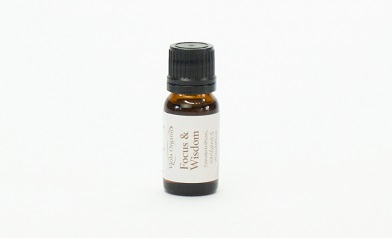 Essential Oils Focus & Wisdom Blend 12ml
$19.50
99 in stock
100% Pure blend of Essential Oils
Concentration, clarifying and stimulating blend of Rosemary, Basil, Black Pepper and Peppermint essential oils. Designed to benefit a working or study environment.

Packaged in 12ml dark glass to protect oil from deterioration with a dripulator plug to allow for dispensing by the drop.
Uses: A blend made for creating an alert mind which in-turn may assist with concentration. Place a few drops in your diffuser, oil burner or mix into a carrier oil to make a massage oil for those without a diffuser (apply a small amount of the massage blend to the inside of your wrists).
Ingredients; Pure Essential Oil: Rosemary (Rosmarinus officinalis), Basil (Ocimum Basilicum), Black Pepper (Piper nigrum), Peppermint (Mentha piperita).
We only stock and sell cold pressed or steam extracted essential oils -(never solvent extracted)
Cautionary Note: NEVER apply pure essential oil directly to the skin. Avoid mucus membranes (eyes/nose/mouth). Always consult with a Qualified Medical or Natural Therapy Practitioner before using essential oils for medicinal purposes.