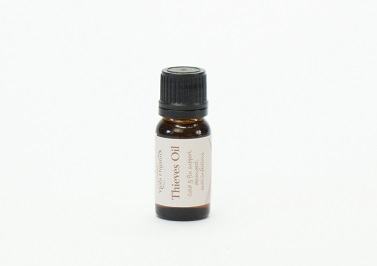 Essential Oils Thieves Oil Blend 12ml
$19.50
85 in stock
Cold & Flu support, decongestant and anti-infectious blend of essential oils that has been around for centuries. Especially suited to sinus, throat and chest infections and ideal for using with steam inhalation or in a room diffuser.

Place 5 – 10 drops in a bowl of very hot water, carefully lower the head over the steam and cover with a towel. Breathe the vapour deeply.
Packaged in dark glass to protect oils from deterioration with dripluator plug to allow for dispensing by the drop.
Ingredients; Pure essential oil; Lemon (Citrus limon), Cinnamon (Cinnamomum zeylanicum), Eucalyptus (Eucalyptus globulus), Rosemary (Rosemarinus officinalis).
We only stock and sell cold pressed or steam extracted essential oils -(never solvent extracted)
Cautionary Note: NEVER apply pure essential oil directly to the skin. Avoid mucus membranes (eyes/nose/mouth). Always consult with a Qualified Medical or Natural Therapy Practitioner before using essential oils for medicinal purposes.