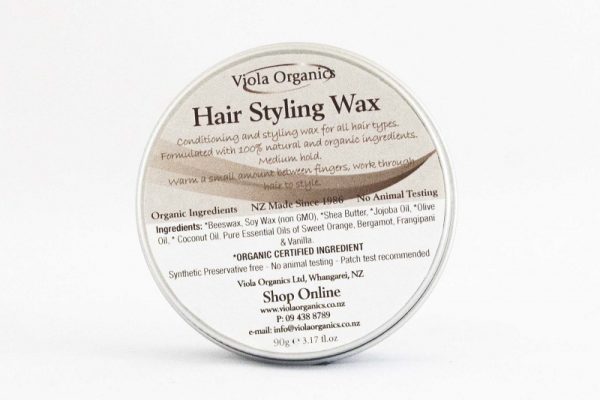 Hair Styling Wax 90g
$21.50
66 in stock
A 100% natural and organic hair styling wax. Suitable for all hair types. Free from preservatives, artificial emulfiers or petro-derived chemicals. Made with ingredients that only work as a hair was or putty but nourishes both the hair and scalp.
TOP TIP – when applying hair wax, use back of thumb nail and draw across wax surface to remove the amount required, melting between finger tips before applying. Works as a medium hold hair styling wax ideally suitable for men with short spiky style hair. However, we also have women with frizzy fly-away hair who love this products. If you require something less 'waxy' then check out Viola Organics hair Styling Gel.
Packaged in an aluminium tin for safety and convenience, easy to take to the gym. Washes out with ease when using Viola Organics Shampoo. Smells divine with Bergamot Orange and Vanilla essential oils.
Ingredients: Soy Wax (non GMO) , Organic Beeswax, Organic Shea Butter, Organic coconut Oil, Organic Jojoba Oil, Organic Olive Oil. Essential oils of Sweet Orange, Bergamot Orange, Vanilla Extract.
INCI Ingredients: Soy Wax (non GMO), * (Beeswax) Cera alba, *(Shea Butter) Butyrospermum Parkii, * (Coconut Oil) Cocos nucifera, *(Jojoba Oil) Simmondsia Chinensis, * (Olive Oil) Olea Europaea. Pure Essential oils of (Sweet Orange) Citrus Sinensis, (Bergamot Orange) Citrus aurantium , (Vanilla Extract) Vanilla planifolia.
* Denotes Organic certified ingredient