Sale!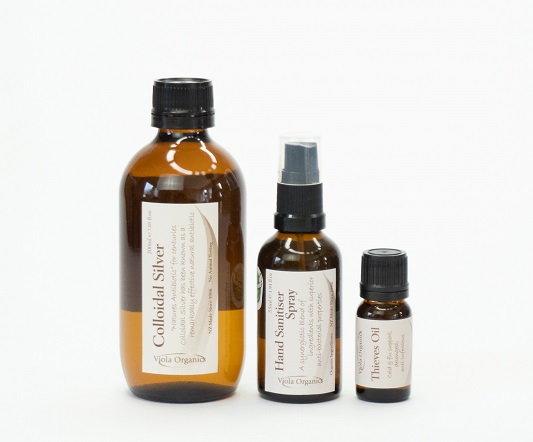 Wellness Kit
95 in stock
RRP $40.50 for just $35 –  Wellness Kit includes the following items
1 x 200ml Colloidal Silver
1 x 55ml Hand Sanitiser Spray
1 x Thieves Oil Essential Oil Blend 12ml
Thieves Oil Blend 12ml RRP $19.50 is designed for use in a diffuser, oil burner or carrier oil for massage. a synergistic blend of essential oils with anti-fungal, anti-viral, anti-bacterial properties.
Double Strength Colloidal Silver RRP $12.50 taken internally or applied topically.
Hand Sanitiser Spray 55ml RRP $10.50 (we also have 3 other sizes and refills available)
For full ingredients lists and more information see main listing for each product.
ALSO….be prepared for every cold/flu season to come with a ceramic salt inhaler is suitable for any family member. Supplied with a bag of the correct size salt crystals which will last many years.
Using a salt inhaler is really simple. Fill the ceramic pot with salt (supplied) and you are ready to go. The Himalayan salt itself lasts for up to 2 years so you end up saving a lot of money. A natural therapy for all lung conditions, this can save you money on cough syrups and prescriptions medicines. You will likely need your asthma inhaler less too!
IMPORTANT information on how to use correctly: Breathe IN through the mouth and OUT through the nostrils. Never breath back into the inhaler or the salt inside will lose its therapeutic effects much faster.
Today, anyone who has spent a day at the beach can attest to feeling the special healing properties of salt. Your breathing is clear and your hair, skin, and nails feel great. If you can't make it to the ocean, there are special salt lined rooms popping up all around the world. These rooms mimic European salt caves to help treat people with various breathing conditions due to living in densely populated and polluted areas. The salt acts as a natural detoxifier which can assist in the removal of toxins and cleansing the airways.
The Benefits of Salt Inhalers
1. Reduces allergies
2. Clears the Lungs
3. Reduces Mucus
4. Better sleep
5. Clarifies the mind